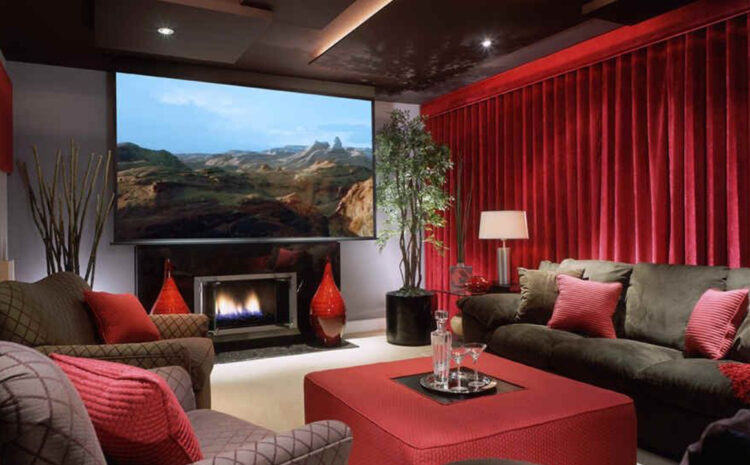 Acoustical Curtains in a Home Theater
Home Theater
Joseph P. from Melbourne, Florida recently decided to turn a room in his house into a home theater.  Joe and his family enjoy watching movies and playing loud music but were finding that at times the noise traveled outside of the room disturbing the quiet, tranquil environment of the rest of his home with noise seeping through the walls.  Additionally, his sometimes noisy family activities would impact his personal movie theater.
In his efforts to turn his house into his dream home, he contacted the experts at All Noise Control, where after a free consultation, we were able to suggest an affordable and attractive solution to his problem:  acoustical curtains. While Joe thought of the Acoustical curtains in a home theater as his own personal man cave, his wife, also wanted the room to be aesthetically pleasing.  Acoustic curtains filled both needs and did so at an affordable price.  Our beautiful and elegant curtains and drapes act as both soundproofing and attractive elements in interior design.
Acoustic curtains are custom-made and can fit windows of a variety of sizes (up to 50″w x 84″h) with your choice of fabrics. The acoustic drapes Joe's wife ultimately selected were STC 20 Acoustic Curtains which we made using the fabric she selected.  This product reduces noise by 20 decibels, leaving the room looking like a showplace and with excellent acoustic properties. Installation was fast and efficient and barely disturbed their use of the room.
We have a variety of different styles of Acoustical curtains in a home theater to choose from and can fit virtually any budget. We are the leading experts in soundproofing in the area and can help find solutions to your problems large and small.  We invite you to call and ask to speak to one of the many soundproofing experts at All Noise Control at 561-964-9360.  Joe and his family are just some of the many satisfied clients we have served.  We hope to be able to help you turn your house into a dream home in the near future.